Perovino
A GOURMET EXPERIENCE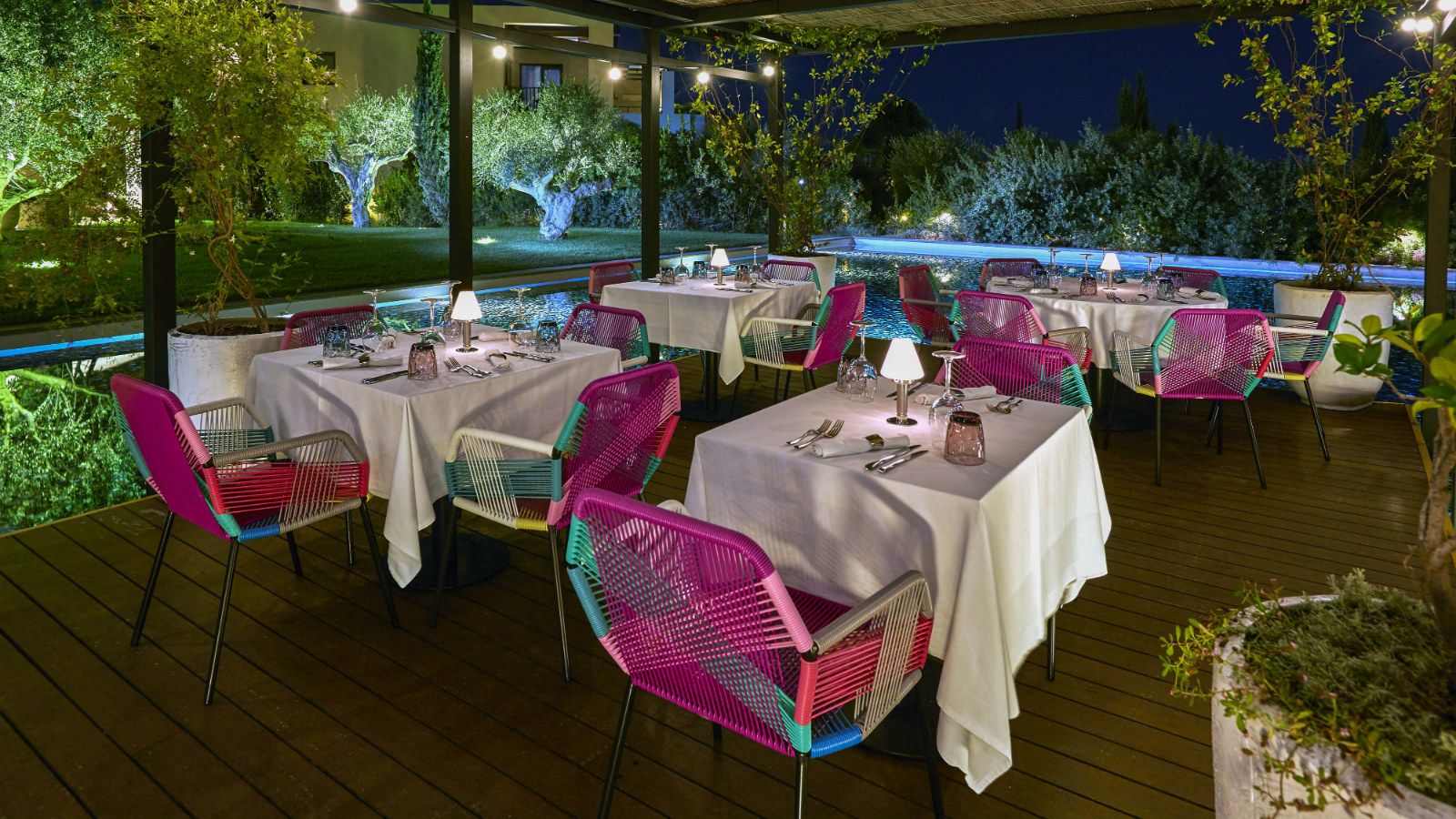 Mediterranean gastronomic traditions interpreted with a creative contemporary flair. Sharing dishes and watching Chefs while they prepare meals create a multi-sensory and social dining experience that highlights the liberating effects of togetherness.


LOCATION: The Romanos Resort
Opening Date: 14th of June
Flame
DISCOVER SIGNATURE CUTS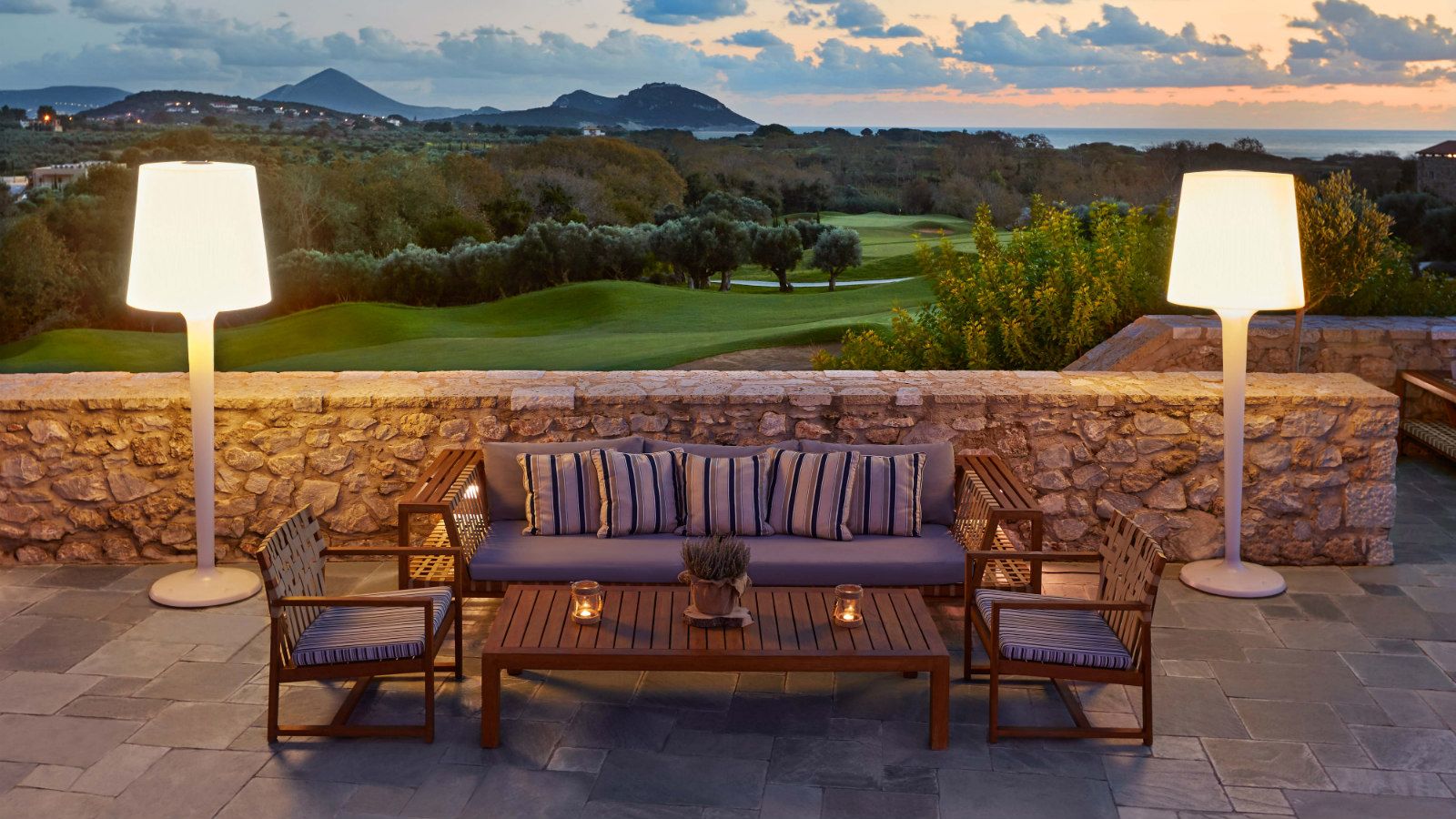 Classic and signature cuts, some exclusive, are served on large wooden platters, complemented by the freshest ingredients from carefully selected small-scale producers in the surrounding area.
LOCATION:
The Dunes Clubhouse
OPENING HOURS FOR DINNER:
Daily from 19:00 - 23:00
Morias
TRY OUR HEALTHY SUPERFOODSRX™ MENU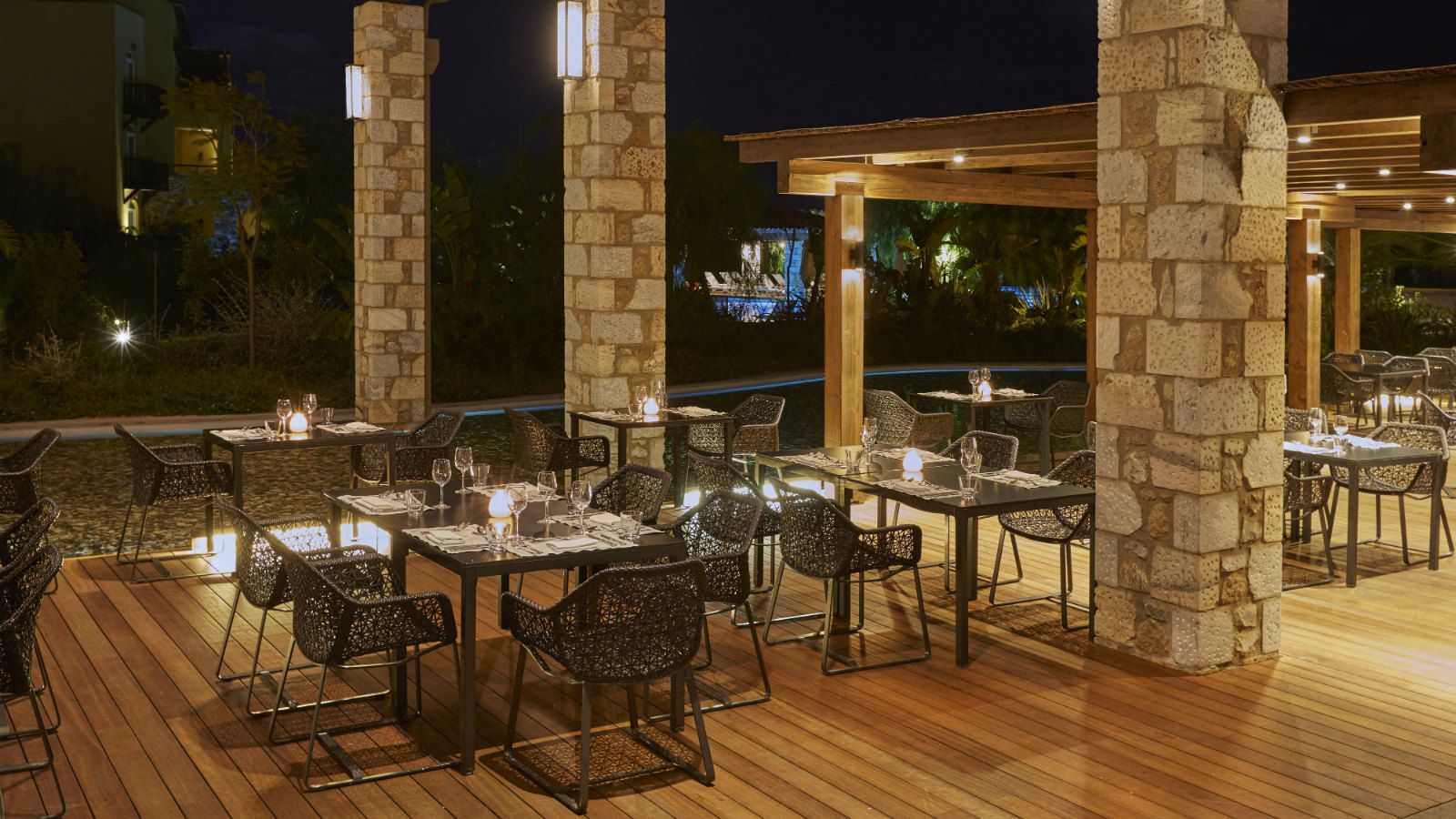 Diverse evening buffets showcasing a wide array of international cuisine provide the opportunity to choose your favorite bottle of wine from our extended wine selection.
LOCATION:
Below Τhe Westin Lobby
OPENING HOURS FOR DINNER:
Daily from 19:00 - 22:30
KOOC - Taverna Secrets
A GREEK QUALITY DINING CONCEPT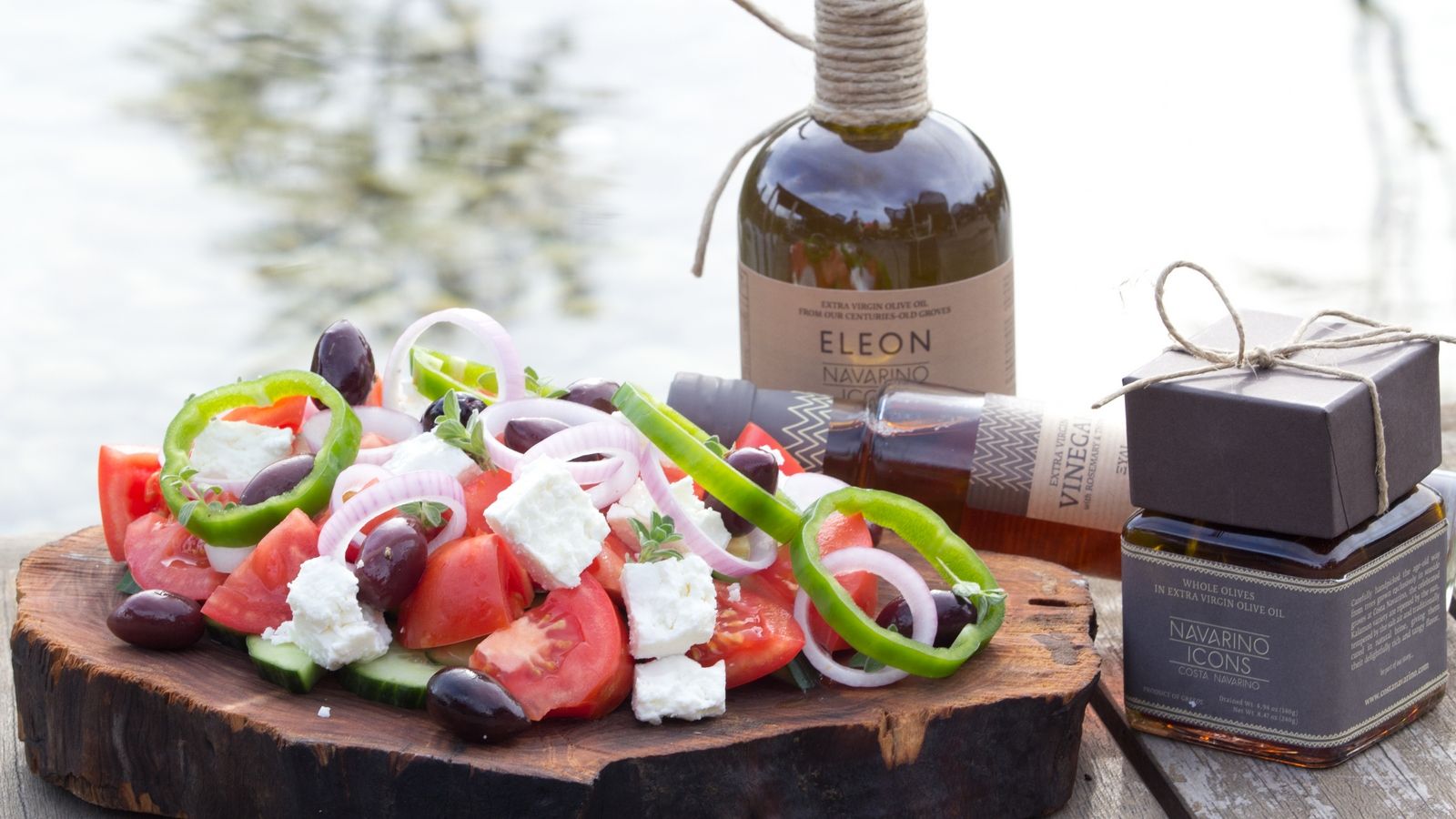 Fusion meets traditional Greek textures and scents to form an inspired dining harmony by Chef Chrissanthos Karamolegos.
LOCATION:
The Agora

OPENING HOURS FOR DINNER:
Daily from 18:30 - 22:30
Da Luigi
AN AUTHENTIC ITALIAN EXPERIENCE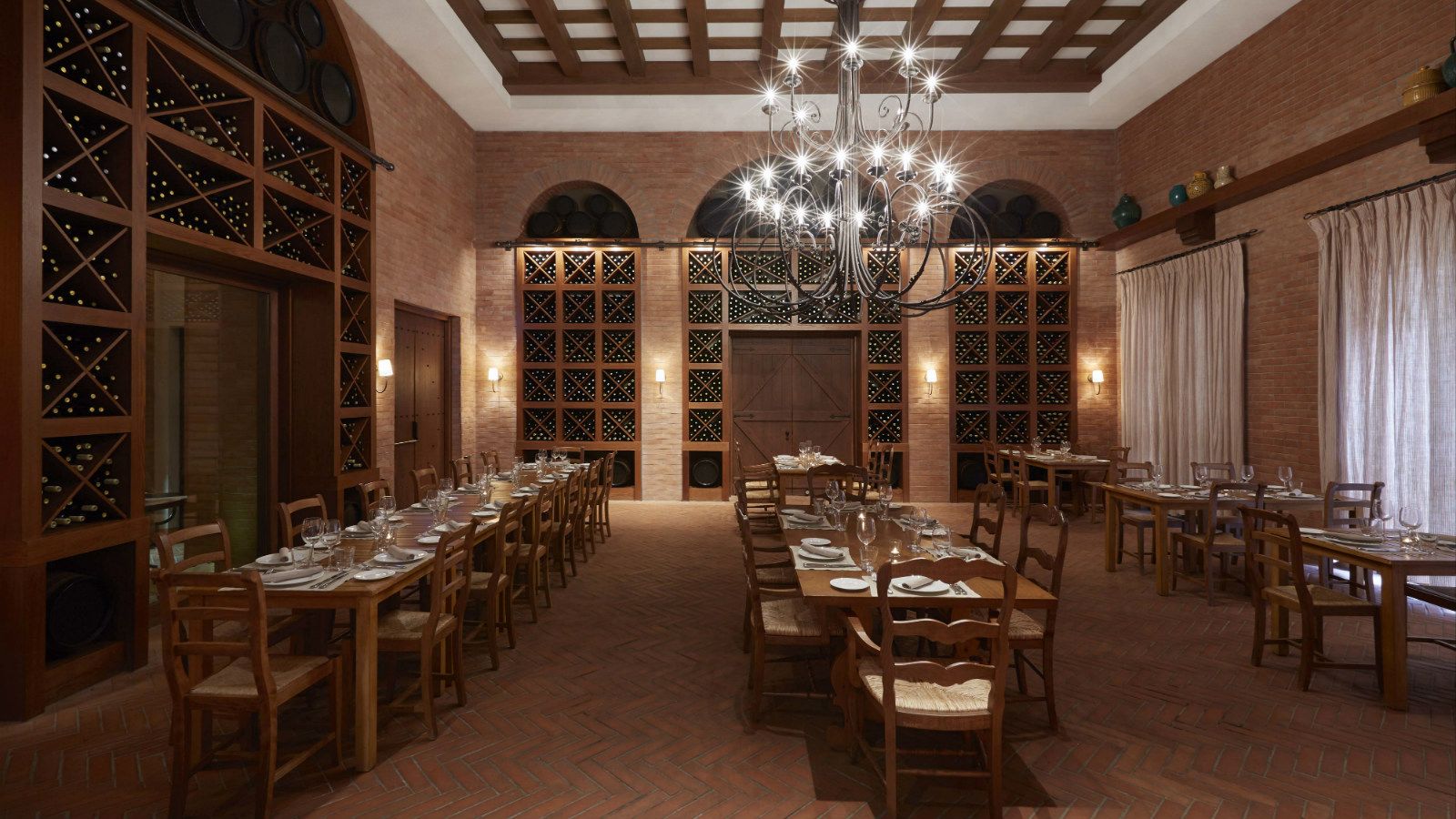 From the Alps to Sicily, the creativity and diversity of Italian cuisine is vividly portrayed with an antipasti buffet, à la carte selections and traditional pizza-making.
LOCATION:
The Agora

OPENING HOURS FOR DINNER:
Daily from 19:00 - 22:30
Barbouni
Early dinner by sunset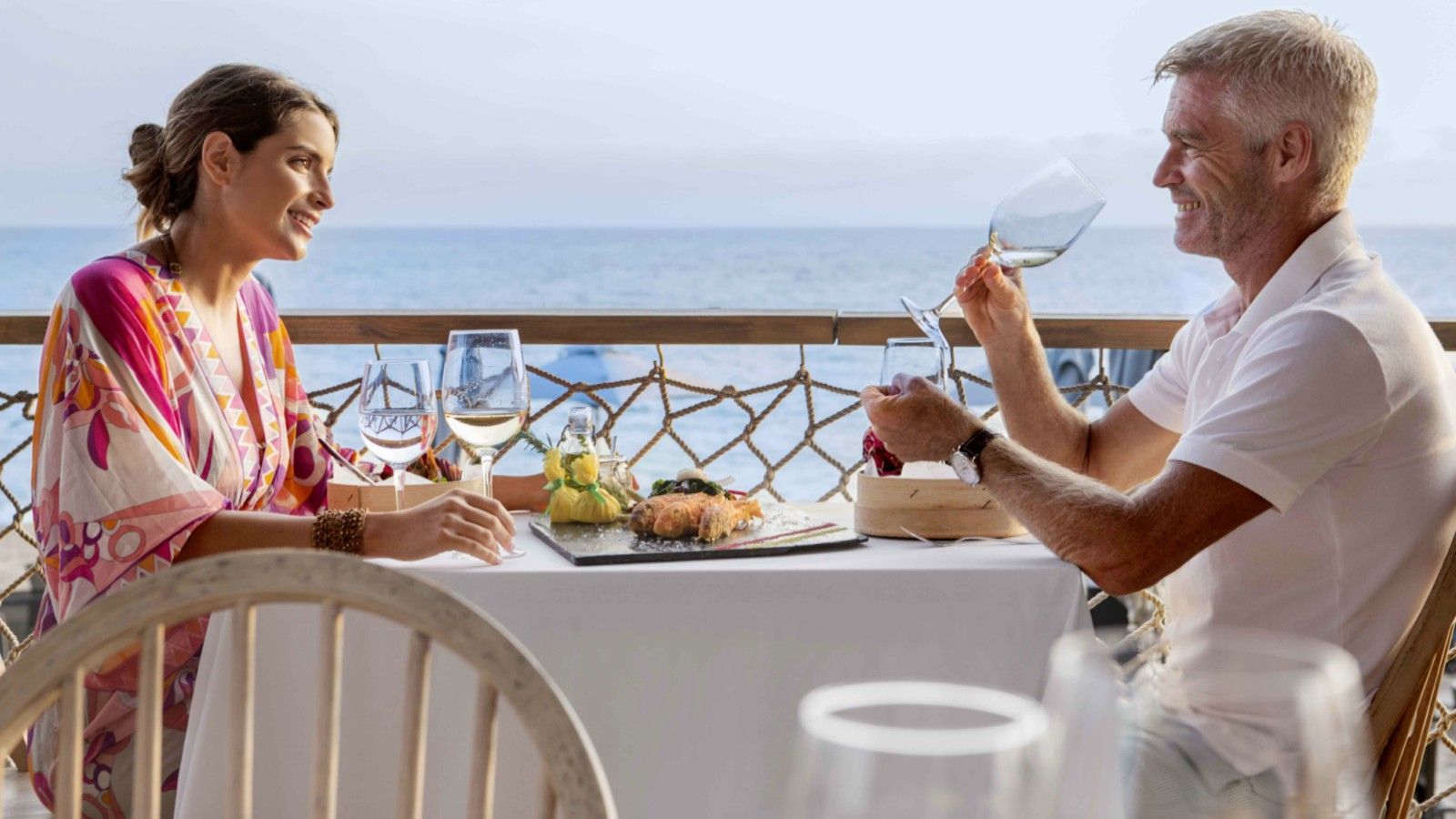 A unique beachside spot for early dinner to savor a superb menu by the renowned Chef Chrissanthos Karamolegos. Freshly caught fish and signature delicacies, in a fascinating setting by the crystal clear Ionian Sea.
LOCATION:
The Dunes Beach

OPENING HOURS

Closed for the season, stay tuned for the 2018 opening dates.
You may experience Barbouni ambience and menu for lunch >>
Armyra
BY PAPAIOANNOU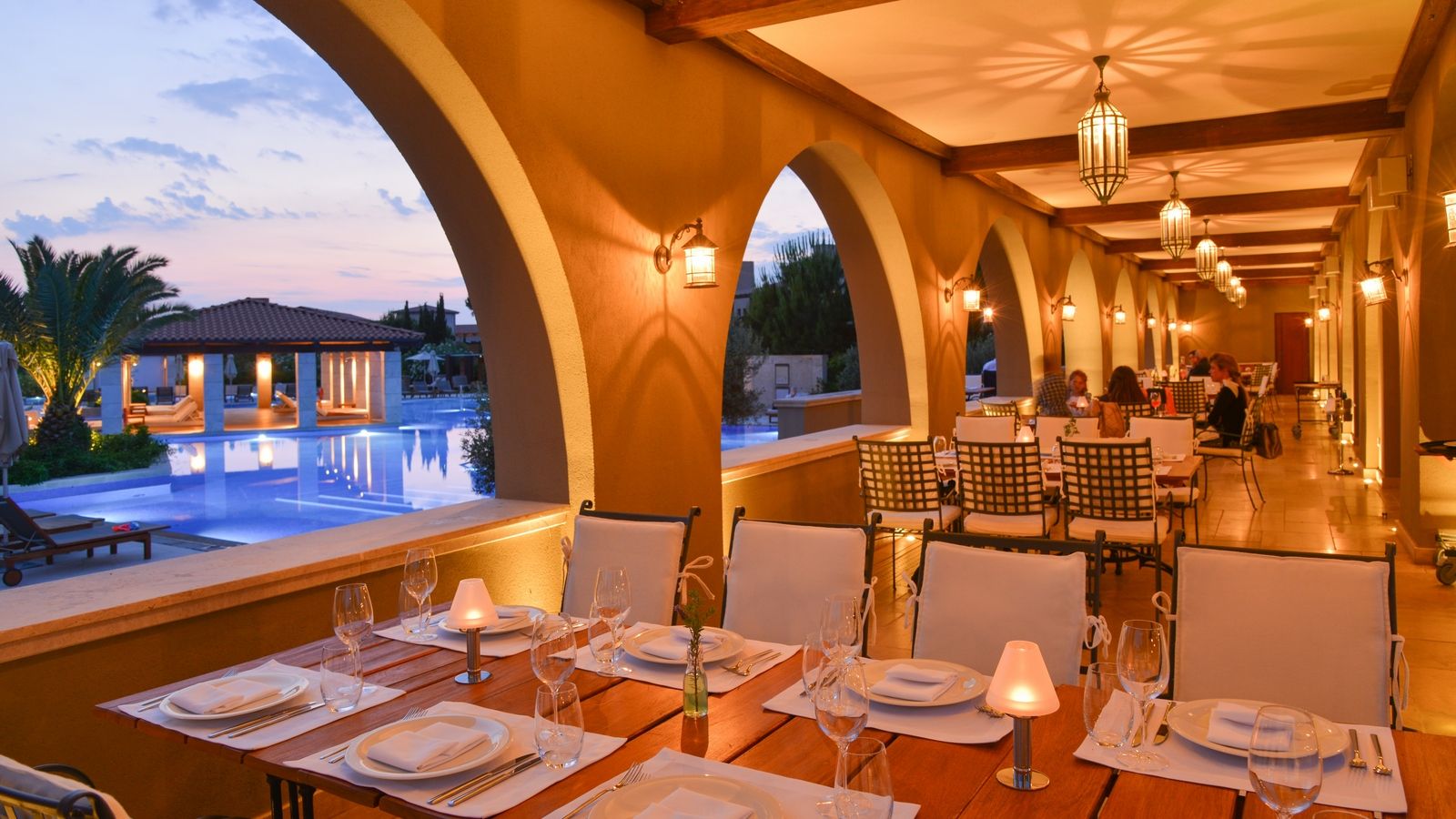 Fresh fish, seafood and Greek culinary delights by chef Yorgos Papaioannou of Piraeus, acclaimed for the freshest fish and seafood specialties. Sourced from local fishermen, combined with the best ingredients and accented with local herbs, vegetables and olive oil, Armyra offers a unique gastronomic experience.
LOCATION:
The Romanos Resort

OPENING HOURS FOR DINNER:
From 19:00 - 23:30
Onuki
A Japenese Journey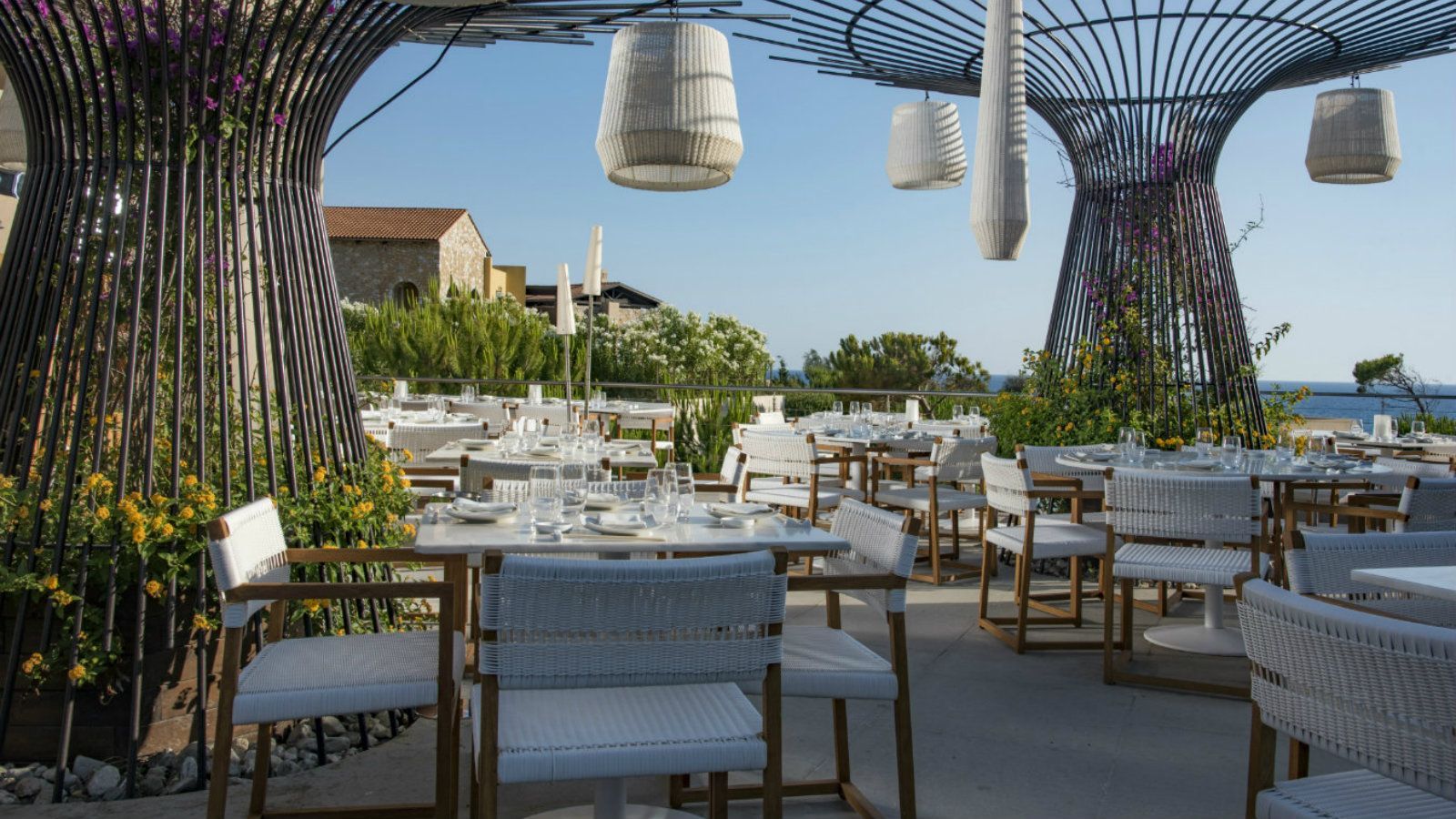 In a stunning natural landscape, the Japanese restaurant invites you in a journey of exquisite recipes and exceptional tastes of one of the most popular cuisines in the world. A refined and elegant bouquet of flavors along with the extraordinary lounge area, promise to elevate your dining experience.
LOCATION:
The Agora

OPENING HOURS FOR DINNER:
Opening: May 25, 2018

From 19:00-1:00
Nargile
LEBANESE RESTAURANT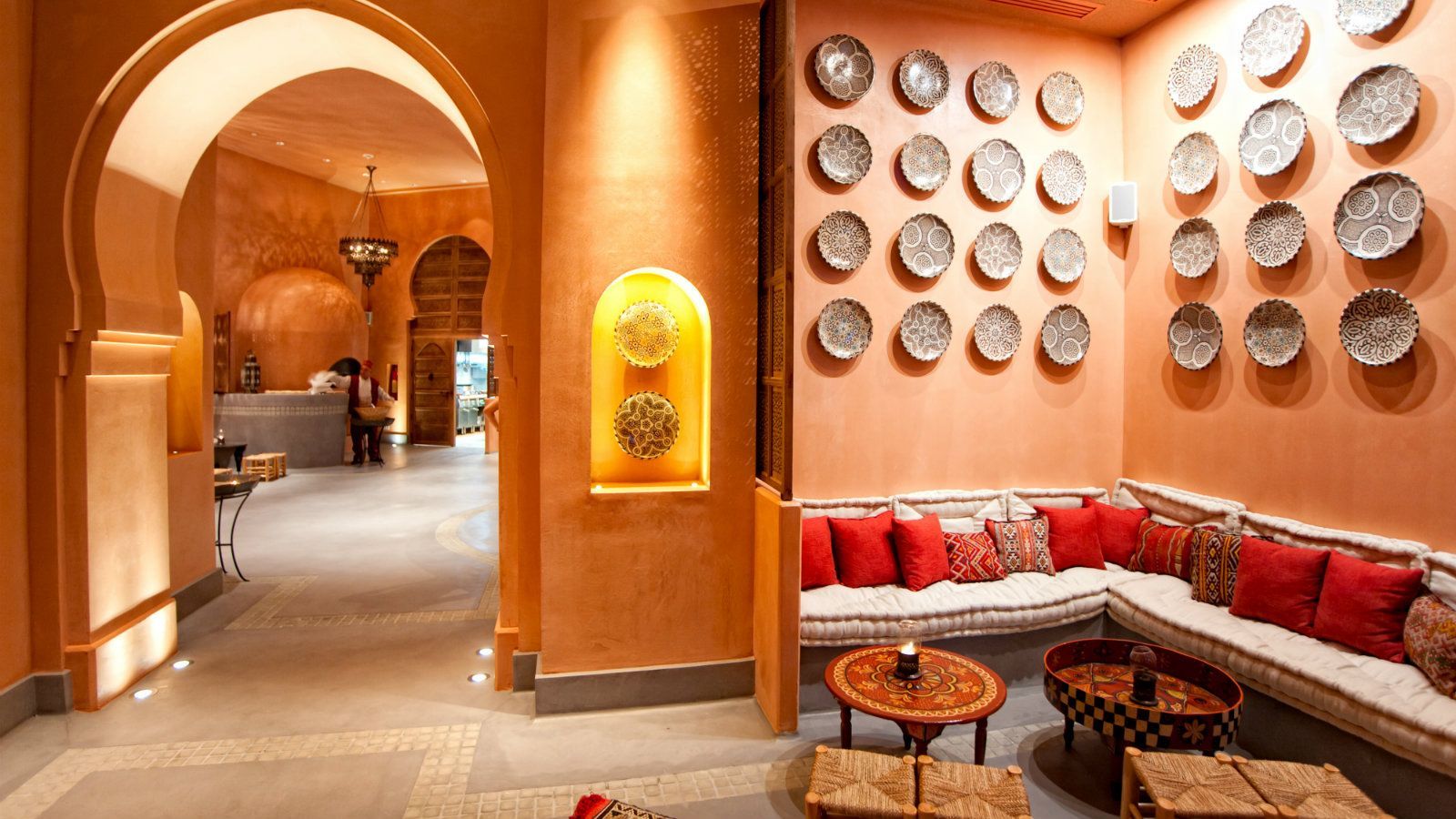 The aromas, images and sounds of the Middle East come to life as your taste buds delight in the flat breads, salads and grills of fine Lebanese cuisine.
LOCATION:
The Agora

OPENING HOURS FOR DINNER:
19:00 - 00:00
The Diner
A classic American Diner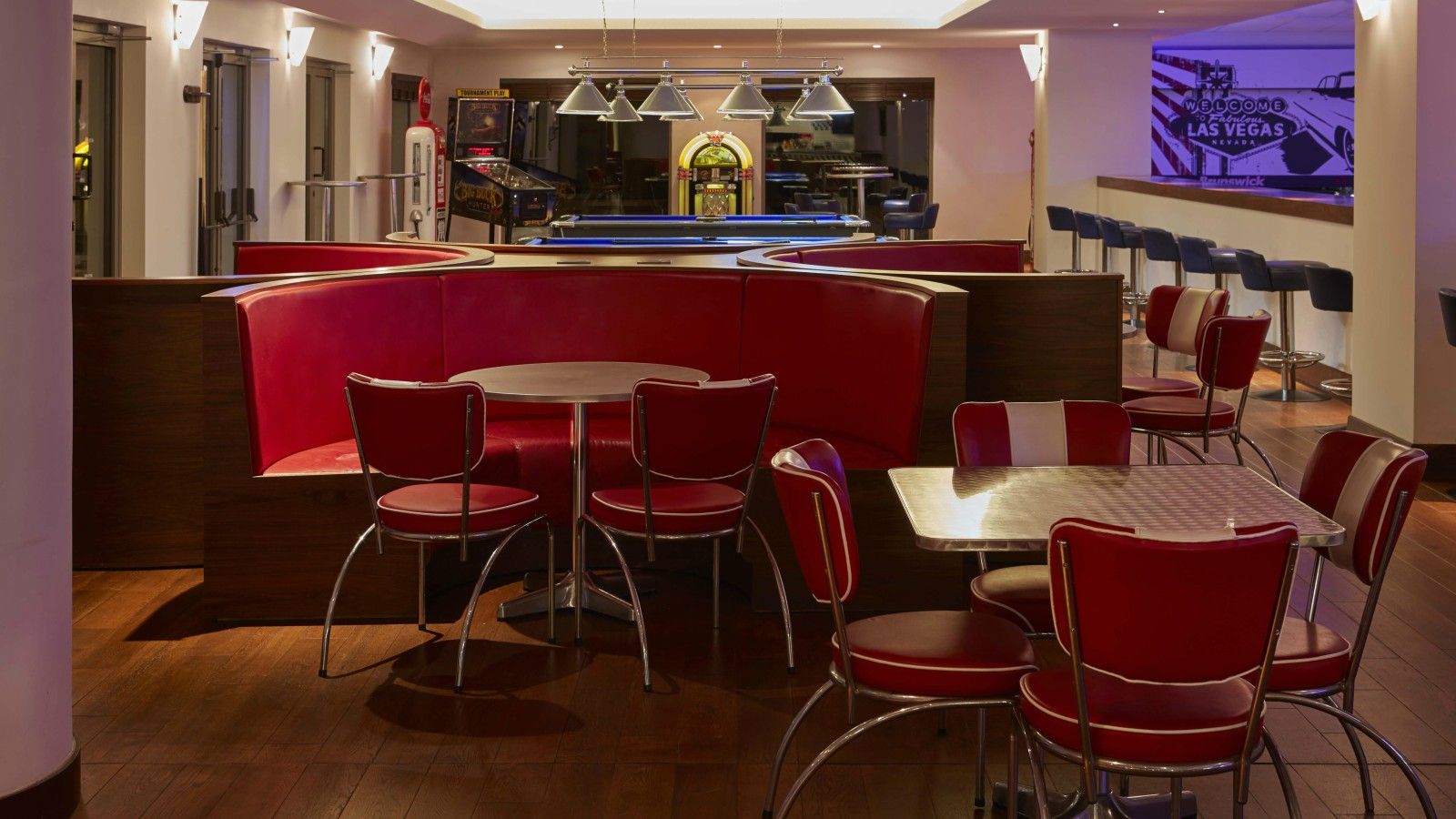 American-style dining with juicy burgers, your grilled favorites cooked to order, and delicious lobster being the latest addition to the menu.
An evening entertainment awaits in an authentic setting, with ten-pin bowling, pool and an indoor cinema.
LOCATION:
By the Aqua Park